I am still alive and kicking!!!   Thought I would update everyone on my artistic journey since I last wrote.
First of all,  I got my printer back into commission.  I bought it a few years ago, paid a  lot of money but it is fantastic when it works.  It is an Epson Stylus Pro R2400.  They no longer make them.  I hadn't used it for a long time and that was the reason I had to pay $500 plus to get a new printhead, etc.  Found a fantastic repair person in Sacramento who was a licensed Epson printer repair person. He did a great job and I am printing again.  It prints 13″ x 19″ sheets or 13″ wide rolls.
I wasn't happy with the paper I was printing on so I paid to get samples from both Moab and Red River Printing.  I am in the process of trying out different papers on various digital and giclee prints.  I am excited by all the new possibilities.
One of them is starting to print out small 8.5 x11 or 13 x 19 prints and selling them as limited editions for very inexpensive prices.  I am still dallying around with prices but will announce soon the deal.  So all my work won't have to go through Fine Art America.  I will be printing using pigment inks and archival, acid free papers.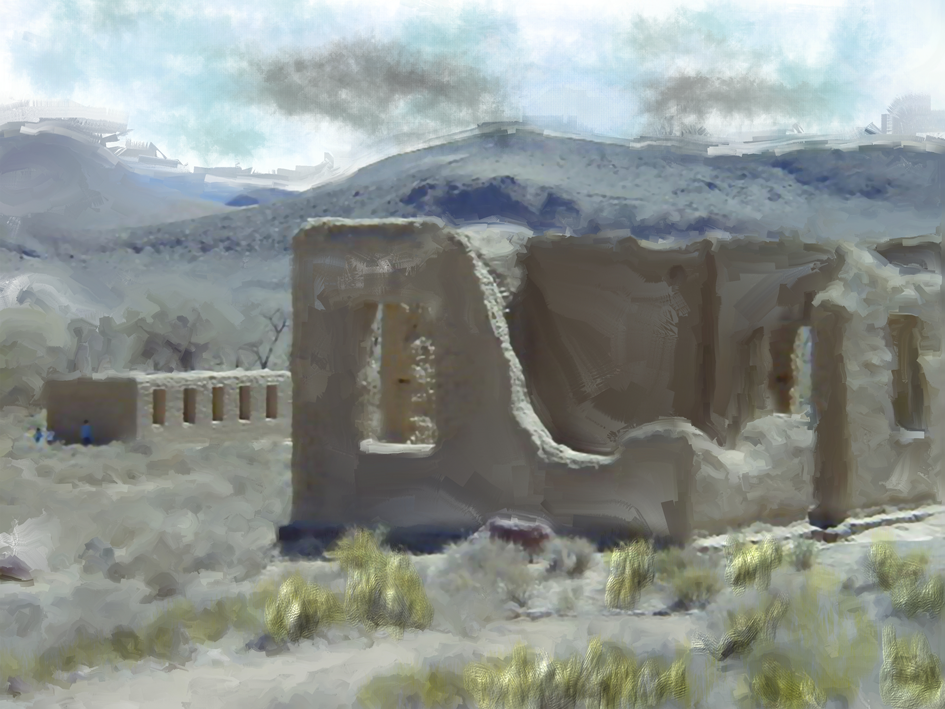 This is a digital altered cell phone photo that I took in New Mexico on one of our trips. I love the southwest and I love old ruin type buildings. I like working with photographs as a base for my art, then letting my creative juices alter the photograph. I have struggled with this in the sense that is this true art, really creative, especially since my early work was much more abstract and expressionistic. And I am using digital tools rather than traditional media. I have to tell myself this is where I am at right now and I am having fun.
The other 2 things I am interested in is taking these digital images and either incorporating them into encaustic work or printing them on different types of substrates such as plexiglass, wood, metal, and clay. This really excites me and is a direction that I want to go in right now during my life.
This piece was from one of my earlier works on paper, digitally altered and enhanced. I used Studio Artist and Painter on this one. I rather like it.